Killyless Stores sell Pegus Cool Mix horse feed. Pegus Cool Mix is an oat free general purpose coarse mix used for show jumpers and ponies.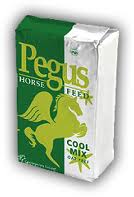 We at Killyless Store also stock haylage, Red Mills & Spillers horse feeds.
With a full range of equine accessories, grooming equipment and products if you have horses or are planning to get a pony this Christmas. We also wash horse rugs.
Call in with Killyless Stores to see our full range or to buy horse feeds.
Killyless Stores: Tel 028 25880233
Killyless Stores – Ballymena – Horse Feed