Killyless Stores Ballymena sell Yara Fertilisers. Yara Fertilisers manufacture and distribute a complete range of fertilisers throughout the UK. Yara have developed crop programmes to supply complete balanced nutrition for the complete range of Arable, Horticultural and Grassland crops.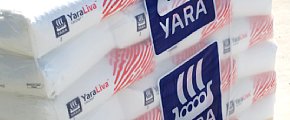 What Yara offer;
Yara offer the most comprehensive range of fertilisers in the industry
their portfolio ranges from single nutrient fertilisers to complex compounds and micronutrients for feeding plants
Global leading producer of ammonia, nitrates, NPK, and specialty fertilisers
Killyless Stores can give you advice and help with which fertiliser is best for your land. With convenient parking, we are located just outside Ballymena. Click here for directions or contact Killyless Stores on 028 2588 0233 with any of your queries about Yara Fertilisers.
Yara Fertilisers – Ballymena