Killyless Stores in Ballymena Northern Ireland want to share the advice recently written by the Health and Safety Executive for Northern Ireland (HSENI) urging farmers to take extra care during this busy period when working with silage.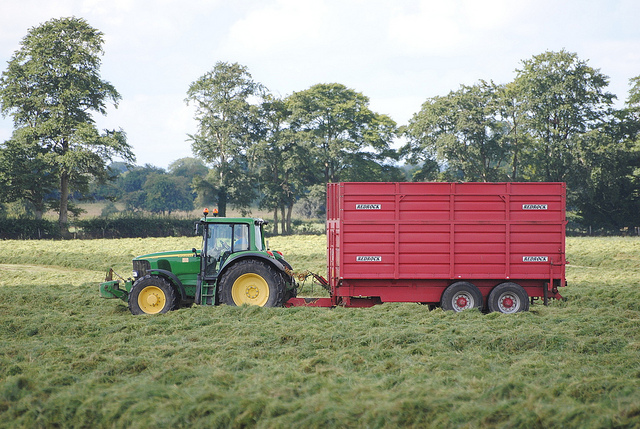 (Photo Credit: Peter Mooney; Creative Commons)
Silage time is always potentially dangerous as high powered machinery is being operated at high speed. In addition, fatigue due to long working hours, difficult ground conditions and poor weather conditions increase the chance of an accident occurring.
However, past experience has shown there are a number of key things which will help make silage time safer and more efficient.
Children
Children under the age of 13 should not be carried in the cab of any machine involved in making silage. Contractors especially must not allow children in tractor cabs. Also, children should not be allowed to play around the farmyard or silage field when silage is being made.
Machinery Safety
All tractors and other equipment should be properly maintained and brakes must be in full working order. Breakdowns, due to poor maintenance, lead to unfortunate delays, adding more pressure to an already busy schedule.
Only competent drivers should operate machinery used to make silage and the carrying of passengers should be avoided where possible.
All guards must be in place on all equipment and blockages that need to be cleared by hand should only be cleared when the drive has been switched off and sufficient time has been allowed for the machine to stop completely. It is good practice to remove keys from tractors during maintenance operations.
Approved safety cabs or roll bars must be fitted on all tractors being used in the field and should also be fitted to any tractor rolling silage (unless limited headroom inside the silo prevents them from being used).
Take care when driving on the public road to watch out for other road users especially when entering or leaving fields or yards.
Silo safety
Silos must never be overfilled as this greatly increases the chance of a tractor or loading shovel overturning, potentially injuring the driver when filling or rolling a silo.
On open silos, with earth embankments, the sides and ends of the silage should be sloped off at a safe angle (less than 45 degrees). Other silos should have a strong front end barrier.
Where machines and their drivers can drop 600mm (2 feet) or more, guard or guide railings are required. Silos with walls should never be filled above the top of the wall – if overfilled the guard rail will no longer be effective and will increase the risk of a machine overturning. Excessive filling will overload walls and increase the risk to the operators of machinery.
Electricity
Be particularly careful when working near overhead power lines and if you use a contractor for silage work warn them of the location of any lines which you feel may impact on large machinery
Self-propelled forage harvesters need a lot of headroom as do large trailers when tipped in the yard. If in doubt about the height of overhead power lines and suitable clearance distances consult with Northern Ireland Electricity, NIE.
To find out more about farm safety, including the ongoing 'Stop and Think SAFE' campaign, please contact the HSENI helpline on 0800 0320 121 or visit: www.hseni.gov.uk/farmsafe.
(Source)
Farm Safety – Northern Ireland