Bimectin Plus Injection 500ml
Now available in store or our online shop
Bimectin Plus is indicated for the treatment of mixed trematode and nematode or arthropod infestations of the following parasites:
Gastrointestinal roundworms, Lungworms, Liver fluke, Eye worms, Warbles, Mange mites andSucking lice.
Bimectin Plus may also be used as an aid in the treatment of biting lice (Damalinia bovis) and the mange mite Chorioptes bovis, but complete elimination may not occur.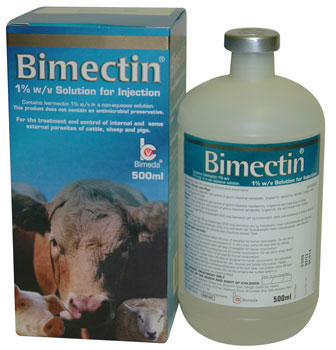 Dose rate:
1ml per 50kg bodyweight.
Withdrawal periods:
Meat 66 days, milk -not permitted in lactating animals for human consumptionwithin 60 days of calving,
do not use in dairy cattle within 60 days of calving.
Price £72.50 + VAT Treats 83 Cattle at 300kg
Contact Killyless Stores Ballymena N Ireland Tel 028 25880233