Killyless Stores are currently selling the value pack of Noromectin 7 Litre Cattle Pour-on for just £115 (price excludes VAT).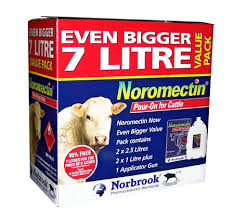 Covers livestock problems such as stomach worms, lung worms and lice. Worms are a thread to any cattle who graze and they can cause devastation to your livestock. Worms can cattle to have a loss in appetite, diarrhoea, and weight loss. Worms can be cut down by clean grazing, and by using worming treatments such as this cattle pour-on by Noromectin.
The value pack includes 2 x 2.5 litres or pour on, 2 x 1 litre plus one applicator.
Call in at Killyless Stores, call on 028 2588 0233 or click here to order the Noromectin 7 Litre Cattle Pour-on Value Pack online. If you have any questions about the product, delivery or anything else please don't hesitate to get in touch with us here at Killyless Stores.